Networking Events

(video from 2018 event)

Fall Technology Summit 2020

Many People wanted to attend NAB this year.

Since Our Missouri Economy is officially back open with our Show Me Strong Recovery Plan

We are Hosting our Regional Fall Technology Summit Show in the Midwest as I cover many States - Missouri, Illinois, Kansas, Iowa, Arkansas, Nebraska, Kentucky, Texas, Arizona & Tennessee.


Video Assistance Company's Fall Technology Summit

Wednesday Oct. 21st, 2020
9:00 AM - 5:00 PM


Come Visit with us for all of the New Technology of the new Decade 2020 and Beyond.

Get your (Hands - On) demonstration of the New JVC Professional Camera Shoot Out Line-up -
JVC Professional Video Delivers Most Resilient Video Transport Over The Internet
along with TriCaster Mini 4K and the TriCaster Two 4K ELite - See Press Release https://www.newtek.com/press-releases/tricaster-2-elite/



Nearly every web conferencing tool including; Skype™, MS Teams™, Zoom Meetings™, Slack is supported, as well as all IP video sources including NDI®, SRT, RTMP, RTP, HTTP, SRC, and smartphones. These, along with almost unlimited traditional SDI sources, can be accessed and used simultaneously, meaning show producers will be able to connect with in-studio guests and remote video callers without compromise or worrying about connectivity. Newtek Reps. will be Supporting Our event.

10:00 am TriCaster TWO Elite 4K Multi-Cam Presentation using JVC Professional GY-HC900 & 550U 4K Connected Cam Cameras & Robotic PTZ

2:00 pm TriCaster Mini 4K Multi-Cam Presentation using JVC Professional GY-HC900 & 550U 4K Connected Cam Cameras & Robotic PTZs

Equipment on Display Through out the day from 9:00 am till 4:30 pm.

Great Networking Opportunities, Camaraderie, Lunch & Learn.

RSVP by Email at glenn@glennwolk.com or call us at 636-467-2428 to Reserve your Seat.
Hampton Inn & Suites- South I-55/ Butler Hill Road
4200 Mid America Lane
St. Louis, MO 63129
---
Glenn Wolk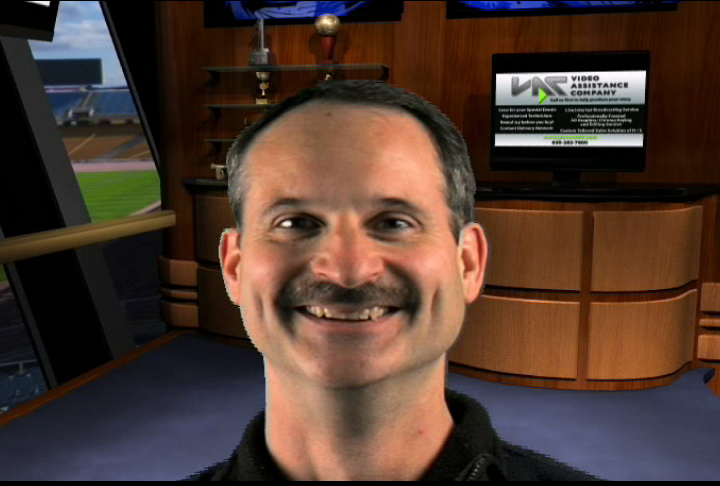 Glenn Wolk, Founder of Video Assistance Company (a referral based business) an Expert who specializes in helping people tells their stories through IP single or multi-camera Streaming to Facebook Live / U-tube Live Professional People Creative Services & Innovative video / audio equipment Technology. We have been making our clients successful for years through Professional Video Services / Factory Authorized Parts Repair / Training & Support / Equipment Sales & accessories. We are the Bridge between the manufacturers and our clients. We are connectors to our clients through our industry contacts as I am referral based business. Ninety percent of my business is through "Word of Mouth" referrals.
CONTACT:glenn@glennwolk.com 636-467-2428
https://www.linkedin.com/in/glenn-wolk-a783a11/

https://twitter.com/wolk_glenn

Clients that Video Assistance Company have supported over the years. Major Educational Universities such as SLU Billikens, Lindenwood Lions, University of MO Science & Technology, High Schools, Corporate Companies such as Boeing, Monsanto, BJC Healthcare, Ameren Missouri, Charter Cable, CBS – KMOV, PBS – Ch9, & Houses of Worship Arch Dioceses Basilica Saint Louis, MO Lutheran Synod & Government State / Federal / City etc.
Target prospects to introduce & refer to Glenn:
Clients who are a joy to work with who want and desire our services, training, support, equipment.
Clients who have the authority to make the decision.
Clients who have the funding / money to invest.
---

Contact: glenn@glennwolk.com to RSVP
Office#636-467-2428

Network with Professionals and see some old friends as well. Learn why MTV, Fox Sports, Major League Baseball, VH1, NHL, NBA D-League, Miss Universe and others use TriCaster as the industry standard in portable live production. Broadcast, live stream, project and record. All at once.

Glenn Wolk - VAC
Video Assistance Company

Studio # 636-467-2428

glenn@glennwolk.com

www.glennwolk.com

* Feel free to bring your team out for a tour of my New Studio Facility.

We can help you in any capacity for Concerts, Corporations, TV Studios, Cable Access Studios, Church Studios, Educational, and Independent Producers / Filmmakers.

Tailored Sales Solution of Hardware / Software - Customization, Configuration, Installation, and Application (Training / Support)
We will work Shoulder to Shoulder with you to develop and hone your solution to perfection.
636-467-2428 | Email Us | www.glennwolk.com